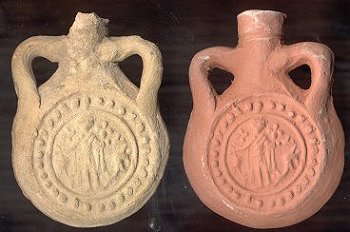 Saint Menas Ampulla-
Pilgrim Flask
These small flasks were obtained by pilgrims at holy sites from about the 4th to 7th centuries. They were probably most often used to carry home sanctified water from a healing spring at the shrine, as well as anointing or lamp oil from the holy site. My replica (right) is a restored cast of the original on the left, which was made for the shrine of St. Menas in North Africa. Examples have been found all over Europe. St. Menas was a Roman soldier who was martyred for refusing to deny his Christian faith. The figures by his side are camels which carried his body back to North Africa. To read more,
visit the shrine's official website
- it's still an active holy shrine. Color will vary. (4" high x 2.75" wide).
$ 11.00 (interior glaze included)